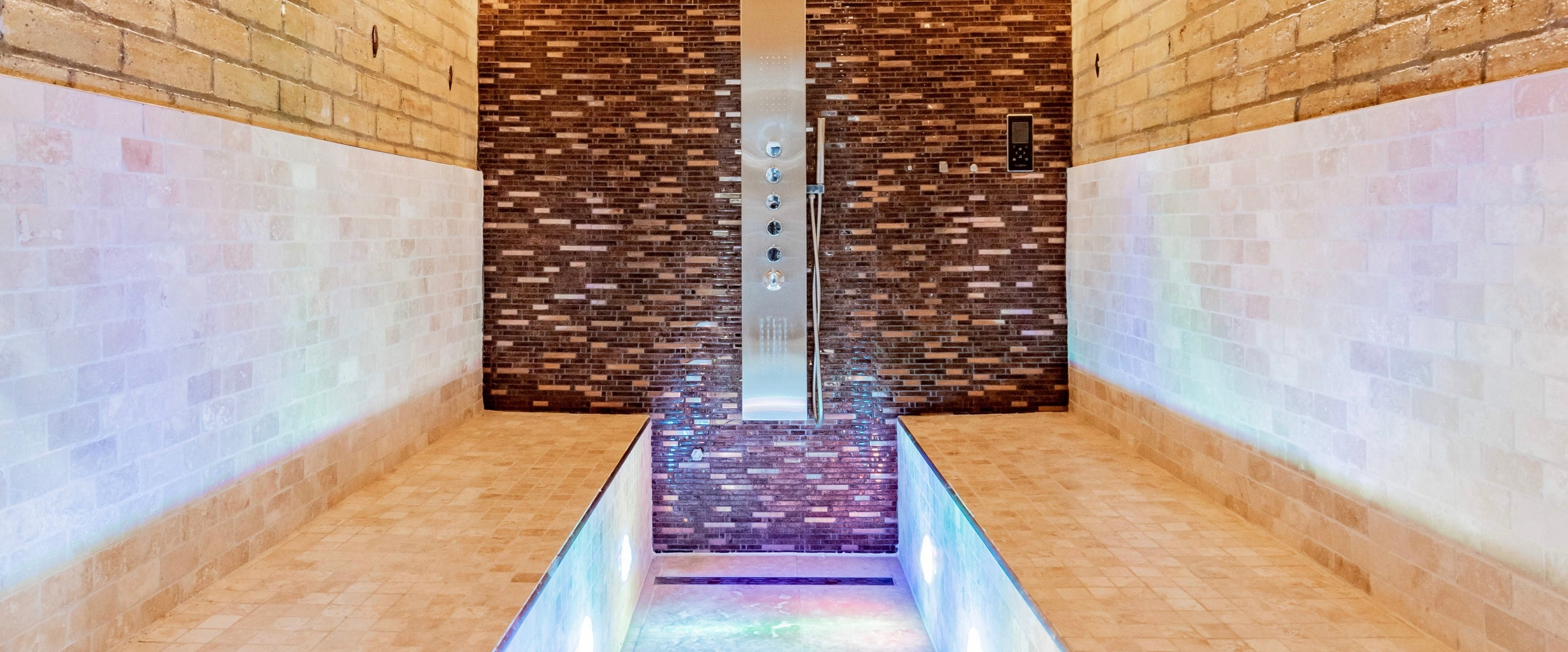 CLICK HERE FOR MOROCCAN NATURAL SPA TREATMENTS AND PRICE LIST
Hammam in Arabic means 'spreader of warmth.' Common in the Middle East, a Hammam is like a sauna, using steam instead of dry heat for relaxation and a deep cleanse spa. Traditionally three steps are involved: steam, exfoliate and massage.

The Moroccan Natural Hammam Spa at The Old Post Office is inside what was the original bank vault of the building, originally Gurney Bank built in 1790. The original features of the arched brickwork and iron reinforced walls, compliment the tiles. The original huge safe door has been preserved on the reverse side of the shower and is a feature in the bathroom of the Gurney Room.
Luxurious in design, the Hammam Spa has aromatherapy scents, chromatherapy lighting which can be altered to suit your mood and bluetooth speakers which may be connected to your music playlist or the radio. The system works on a 45 minute cycle, this being the recommended time and automatically switches off until restarted again.
Benefits of the Hammam Spa
Reduces stress, anxiety and allow deep relaxation.
Removes dead skin from your body, unclogs pores and eliminates toxins from the skin
Regulate skin oil secretions to prevent acne and help heal scars and reduce redness
Nourishes and rehydrates the skin 
Anti-aging allows the inner organs to breathe, helps to tone and firm the skin while improving elasticity
Decreases muscle tension, soothes muscle pain and rheumatism
Promotes better sleep, helps to rejuvenate your body during rest
Boost the immune system and activates the blood circulation
Temperature
Unlike the sauna, humidity in a Turkish bath is around 100% and the temperature goes from 25 to 50 °C, rising upwards from the floor. The temperature is lower than in a sauna but given that you stay in a Turkish bath longer, you sweat a lot more. Due to the lower temperatures and the increased amount of steam, Hammam cabins do not have wooden interiors but are covered in ceramics or tiles like normal bathrooms. The procedure for a Turkish bath is similar to that for a sauna.
What to Wear
Swim wear is suitable attire to wear in the Hammam Spa. We provide Hammam towels, however bathrobes and slippers are available at a supplementary charge of £15 and you may take these home with you!
Step by Step Use of the Hammam
Preparation
Before entering the Hammam, it is a good idea to drink a glass of water or a green tea to avoid dehydration, we provide these as readily available in the Galleried Library where there is seating to relax. Next have a warm shower, washing yourself thoroughly with soap and then drying off well, if the Hammam is being used by other people, please shower in your bedroom/the changing room.
Simple Routine 15 to 20 minutes
You may choose to prepare a foot-bath using our metal Hammam bowls and warm water to gently heat your feet. Sit or recline on the bench. As well as benefiting from the steam, you can also enjoy aromatherapy using essential oils to reawaken, refresh, stimulate or relax. Colour therapy also has beneficial effects on your mind and body. Take a break as needed to rehydrate or use the toilet. The cycle may be repeated 2-3 times with short 5 mins breaks in between. Upon exiting, have a cool shower and lie down to relax for a few minutes of minutes.
Complete Routine 45 to 60 mins
Follow the simple routine as above, at the end of the cycle use the Rhassoul clay as a face mask, it may also be applied to your hair and left in as a conditioning treatment until the end of your spa session. Cover your body with black soap and use a wet kessa glove to exfoliate your skin, rubbing and massaging the body with vigorous and circular motions away from the heart for at least 10 minutes. Have a cool shower, please use the bathroom in your bedroom/the changing room if the Hammam is being used by other guests. Lastly moisturise your skin with again oil.
Exit the Hammam immediately if you feel at all unwell or if you have a throbbing in your temples, an indication of excessive change in your blood pressure.
Enjoy Moroccan Mint Tea served with nuts, refreshing green smoothie, dried fruit, Turkish delight and Middle Eastern delicacies, £7.50 per person (min 2 persons)
Arabian Day Party/Celebration Experience 12-5pm
Enjoy an Arabian afternoon tea on arrival, Hammam Spa with Spa kit, 35 min massage or pedicure, Belly dancing class followed by a delicious Lebanese tapas, complimentary flower alcoholic/non-alcoholic cocktail and Hookah pipes. Minimum 5 people, £95 per person
Hammam Spa kit
A traditional Hammam Spa kit of: Organic Rhassoul clay, black soap, kessa glove and argan oil to enhance your Hammam Spa experience. This is charged at £20 per person and allows for one full body treatment. Mandatory for use of the Hammam and with complimentary foot rose petal foot spa.
Health and Safety
A short health questionnaire with disclaimer must be completed before using the Hammam. It is not recommended for individuals with heart conditions. open wounds, pregnant women or children under 12 years old.